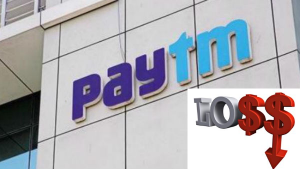 Paytm's consolidated losses nearly tripled to ₹4,217 crore in FY19 amid competition with PhonePe and Google Pay, its annual report sent to shareholders shows. Revenue rose just 8% to ₹3,580 crore while expenses surged 60% to ₹7,730 crore due to marketing and operational expenses, parent One97 Communications said. India's most valuable startup is betting big on financial services including payments bank, insurance and consumer loans, as rivals catch up in the digital wallet business. Meanwhile, Times of India says One97 is in early talks to pick up a stake in private-sector lender Yes Bank.
PayTM has done a great job in creating a digital payment mindset. Outstanding execution in pushing QR code payments; in being ubiquitous. Still too much friction in KYC and digital adoption across – customer experience still not smooth across journeys.
A pride of India ?? because, it is a startup that taught India ?? to transact money digitally. It has scale and variety on its side pertaining to this field.



Valued $ 15 billion, as they claim? With an estimated revenue growth of 6% and loss jump of 163% – you know a startup hype when you see one. Surely that reported rev growth can't be right? At this valuation, it is bigger than combined market caps of Yes Bank, RBL Bank and a few other PSU banks put together. And add to the news they are in talks to picking stake in Yes Bank? And about IPO in 2 years? Then why so much of loss? A loss for creating a habit.
The company incurred a net loss of Rs 4,217 crore on a consolidated basis. This includes businesses of Paytm Money, Paytm Financial Services, Paytm Entertainment Services, etc.
Higher GMV alone cannot sustain scaled losses for years. The profit has to kick in and a strategy has to be in place as a roadmap.
Alas, the flurry of press releases and elevator statements don't match the financial numbers, growth or customer experience. I wouldn't yet declare this Emperor has no clothes, though let's say they are getting there.
Customers are having free rides and will continue to do so. But certain value added services can be entailed that can translate into a good absolute revenue.
One97 Communications, the parent company of Paytm, a veteran of digital payment world, has incurred huge losses in the last financial year ended on March 31. The company incurred a net loss of Rs 4,217 crore on a consolidated basis. This includes businesses of Paytm Money, Paytm Financial Services, Paytm Entertainment Services, etc.
Innovation is the Key. I am sure they are building a great business but does this hype about company and valuation critical for its consumer business?
The current network size of PayTM amongst merchants is very high and that can be leveraged.
Plus, why costs can't be cut down. I am sure there are wastes. TPM as practice can do very well for e-commerce companies also.
PayTM doesn't have logistics costs. Costs are purely cloud and IT services. When revenues are so limited, the luxury of waste is a burden.
According to the company's annual report, it had a loss of Rs 1,604.34 crore a year ago. That is, within a year, the company's losses have more than doubled. In the last financial year, One97 Communications alone incurred a loss of Rs 3,959.6 crores, while the company had a loss of only Rs 1,490 crores a year earlier.
PayTM must monetise its assets like The volume of transactions that happen through it and The huge data base it has both of customers and merchants.
During this period, the company's total income increased by 8.2 percent to Rs 3,579.67 crore. On the other hand, the company's expenses doubled to Rs 7,730.14 crore.
The company said in its annual report, "The company has had to incur heavy capital expenditure in order to create a brand and strengthen business activity. We had to incur huge amount for many capital and operational expenses, due to which there is a loss during the financial year.
It is worth noting that Vijay Shekhar Sharma, the founder and managing director of Paytm, holds 15.7 per cent in One97 Communications. Sharma said that despite huge losses, the company is considering an IPO to raise capital from the market in the next two years.
In 2018, the company received $ 300 million in capital from American investment company Berkshire Hathaway. Foreign companies like SoftBank and Alibaba have also invested in it.
Paytm has recorded more than 1.2 billion merchant transactions in the first quarter of the current financial year. Apart from this, Paytm claims that it has retained a leadership position in the country in offline payments due to P2P and money transfer transactions.
One97 Communications Ltd. Paytm owned by it is accepted at around 14 million retail outlets and the company has a market share of 70 per cent in the region.
The company announced this year that it was now shifting focus from peer-to-peer (P2P) transactions to promote the use of digital payments in grocery stores, restaurants, commutes and other daily expenses.
Paytm said that it has also started a big campaign to teach users to scan QR codes, so that they can pay instantly from the Paytm app at grocery stores.