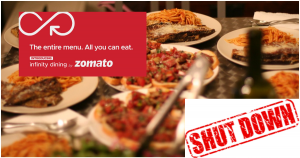 Zomato had positioned the Infinity programme as a "first for India, under which diners could try as many dishes as they wanted at a fixed rate per person".
Zomato has withdrawn Infinity Dining, an all-you-can-eat service for its Gold members. A spokesperson said the programme had been paused as the company incorporated feedback from partners. Zomato has lost more than a third of its Gold member-restaurants, many of whom have launched in-house loyalty programmes and freebies to lure diners. The eateries had rallied against Infiniti Dining, alleging it led to food wastage and didn't improve earnings. A subsequent Logout campaign by them forced food aggregators to drop deep discounts for customers.
I just read that Zomato has suspended its Infinity Dining Programme. This program allowed Zomato Gold subscribers to order unlimited drinks & food for a set price from its partner restaurants.It had the word 'wrong' written all over it. I am sure customers would have no qualms taking up on this offer because it seems like a dream come true. But for restaurateurs, it would be a death knell. Unfortunately for Zomato, restaurants were already livid with them for the commission charges and Zomato Gold & the Infinity scheme was the last straw. Their association went on a strike & we all know how it has ended now.



Soon a #Logout campaign was launched by the restaurant operators. The super hit program soon faced so much criticism among the restaurant owner that more than 1200 restaurants unlisted themselves from being the partner of dine in program of online platforms. Zomato also had to pay a price as it lost 1% of its gold partner restaurants within just 1 month of the launch of the program.
Did Zomato think it was too big to fail or did it take its partner restaurants for granted?
Here is how I think Zomato could have avoided this embarrassment. Talk to its partners regularly to see how they feel about the changes that are being planned. Instead of imposing stuff on them, have meaningful dialogue so that it is a win-win for both. At the end of all this, Zomato has come out looking like a corporate monster that everyone loves dissing. They might be making money, but they have lost their goodwill. Here is a chance to reinvent themselves. They are nothing without their partners, they should realize that.
Although, this program was a hit among the foodies out there but like always, there is an opportunity cost for everything here that was borne by the restaurant owners. The disgruntled restaurant operators soon started to delist themselves from Zomato and also from many other food aggregators like nearbuy, magicpin, etc As, there is no such thing called free-lunch!
Infinity Dining just made the life of foodies a lot easier. Now, a Zomato gold member can choose a partner restaurant and then go there and order anything from the menu without being charged additionally. One needs to select the restaurant and pre-book it according to the number of people visiting, pay online, and then enjoy the delicious unlimited items from the menu. The soon to be turning out fairy tale lasted for no more than 1 month for Zomato.