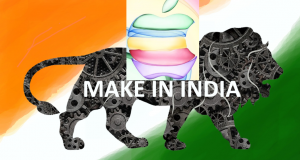 Apple is set to make an investment of 1 Billion Dollar in India through its vendors, partners and stakeholders as per the media reports. India is finally considering Foreign Direct Investment  in single brand retail a move that might encourage companies like Apple to manufacture locally. Currently 30% of components have to be purchased locally, and now they will be asked to export from India.
Its aim: Export 'Made in India' iPhones to its international markets. Contract manufacturer Foxconn Technology will be the investment partner for Apple's latest local push. The move comes on the back of fraught US-China trade ties amid sustained efforts by New Delhi to woo global manufacturers.
Apple presently makes iPhone 6S and 7 in the country, but is "seeking clarity" on India's export incentives to assemble more models locally.
Apple is reportedly now Shipping iPhones "Made in India" to certain European Markets.



"Made in India" iphones to ship across the world. This will also help in bringing more people from India in the Apple Ecosystem. If it all works out then we may also see services like Apple Pay and TV+ come to India. Exciting times ahead!
While Apple is currently using manufacturing partner Wistron for iPhone production for India, it's Apple's partner Foxconn that will be stepping up its investment with Apple to make iPhones for export from their Indian plant.
Recently Apple TV's India pricing is a big surprise to disrupt the Indian OTT Market. At $1.40 per month or INR 99, this is bound to be attractive. The question finally is always going to be about local content options for what is perhaps the most extremely diverse market from a media consumption perspective with language-dialects, culture and lifestyle / lifestage differences among the consuming classes!
The excitement is about how do we bring the 200+ component suppliers of Apple. And where will they go? Looks like the obvious choices are Karnataka, Tamil nadu, and Andhra Pradesh. Good times for all the Southern states. May the proactive, industry friendly state win.
Apple to invest $1 billion in India, plans to begin export of 'Made in India' iPhones across the world.
Apple and Foxconn Plan to Expand iPhone Manufacturing in India that would meet Government Conditions to open Flagship On-Line Store.
According to a report out of India, Apple is set to commit fresh investments, to the tune of USD $1 billion, in India through its partners.
By making more iPhones locally, Apple will be able to avoid a 20% duty so that they could better compete with Samsung and other popular smartphone makers in the region, also bringing in more suppliers into India will also help Apple meet the 30% local sourcing rule needed to open its own stores in India.