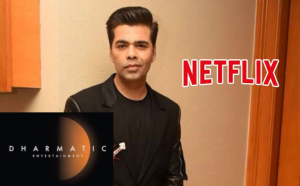 Netflix announces a long-term partnership with Karan Johar's Dharmatic Entertainment. Netflix and Karan Johar to collaborate its Dharmatic Entertainment which is a digital division of Dharma Productions to create new fiction and non-fiction series and films exclusively for Netflix members.
There are about 1.3 billion people in India and some 9,000 movie screens. There is an issue of supply and we've used the opportunity to see how movies can get to people quickly after theatrical release, and not just in Hindi but all languages. Add to that untapped spaces like comedy (with shows like Comicstaan) and, and we've got what our customer wanted," Gandhi added.
The Bollywood industry is a billion dollar enterprise and Netflix wants in on the game. By signing a deal with Karan Johar – a huge Bollywood director – Netflix continues its aggressive push into a market full of entertainment-hungry users.
Part of any OTTs success strategy in India is investing in Indian content. A multi- year deal between Netflix and Karan Johar is a step in the right direction. Focusing on long term partnerships for more Indian content. With more than 550Mn Hindi speakers in India, the push has to be in Hindi.



While the two companies refused to share the details of the deal, including the total number of series or films, Srishti Arya, director, International Original Film, India at Netflix said that it's a long-term deal that spans across genres.
Karan Johar, who has directed Lust stories for Netflix is now planning to produce his big hit film 'Student of the Year' for the OTT platform as a web series, He is currently busy producing 'Guilty' with Kiara Advani for the Netflix.
Some months back Karan Johar made a huge announcement that he has officially started a digital #content company. Titled as Dharmatic Entertainment, it will be a division of Dharma Productions and will produce content for the #digital space.
The strategy, quite clearly, Marine and Gandhi said, is to go both wide and deep. Amazon content is currently watched in about 4,000 Indian towns and cities. Indian originals are, incidentally, also grabbing eyeballs overseas. One in three people who watched shows like Breathe and Mirzapur, came from outside India. But while the service doesn't disclose investment or revenue figures for any country, it is looking to cater to all of India for the long-term and is not eyeing profits in the near future.
All streaming services in India are currently clear about the fact that they are in investment mode in the country and will continue to see the entry of newer players. Apple TV+ has just announced a November launch at Rs. 99 for India while Walt Disney will also route content from its new service Disney+ through Hotstar to the country.
Currently it is estimated that Netflix has 1.2 million subscribers in India, which is considerably less than Amazon Prime Video who have 2.5 million.
Will this latest collaboration boost Netflix global user base?