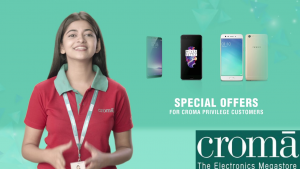 Tata Group's Infiniti Retail, which currently owns and operates Croma electronics retail chain, is in sincere plans to raise Rs 750 crore from the holding company – Tata Sons – over the coming two to three years to finance its expansion and diversification plans.
India seems to be becoming the battleground for international retail giants Amazon and Walmart. The world's biggest e-commerce company is locking horns with the brick and mortar store leader Walmart to capture market share in the Indian market.
In a serious efforts to raise funds, Infiniti Retail last month increased its authorised share capital to Rs 2,000 crore from Rs 1,000 crore to issue fresh equity to the parent company, its regulatory disclosures showed.
Walmart might be pursuing the Tata Group for a strategic alliance in the country to ward off Amazon's advances in Indian offline retail space. Tata, being an offline retail veteran in the Indian market, would possibly be Walmart's best bet to challenge the potential Amazon-Ambani alliance. Tata Group occupies the retail space with its brand stores of Westside, Croma, StarBazaar and it also operates the outlets for the International coffee brand Starbucks in India.



In a filing to the Registrar of Companies (RoC), the leading retailer said it has organized to set up multiple stores across India with significant investment in e-commerce and digital solutions to boost consumer experience and operating efficiency.
Meanwhile, Amazon is in talks with Reliance Retail to acquire a 26% stake. Amazon has also been marking its presence in the Indian market with significant acquisitions to boost its offline presence while it battles with Walmart owned Flipkart for the e-commerce space.
During the last financial year opened around 22 new Croma stores , taking the total number of outlets to 130, which were the highest in any financial year, the company reportedly said. It is the second-largest consumer electronics retailer after Mukesh Ambani's lead Reliance Digital.
Additionally, Amazon is also reported to be in the final stage to acquire about 10% stake in Kishore Biyani owned Future Retail Group. Future Group operates around 1,035 consumer stores across India under the brand names of Big Bazaar, Easyday, Food Bazaar, and Aadhaar Wholesale.