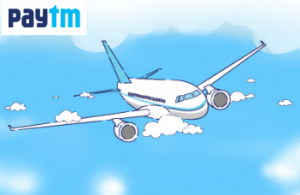 Digital payment company Paytm will invest Rs 250 crore in its travel business during the next 6 months. According to the company owned by One97 Communications, it has sold more than 100 million tickets within just three years.
Paytm said it has laid out strong plans to invest Rs 500 crore in increasing its scale of economies for its travel operations and has partnered with more than 5,000 hotels across the budget, luxury and business segments.
Abhishek Rajan, Senior Vice President, Paytm Travel, said, "We are seeing strong growth in Tier-2 and Tier-3 cities with 65 per cent new customers. This investment will help us to grow further in terms of travel booking. The company gave its information on Thursday.



Payment apps such as Paytm, PhonePe, Google Pay are venturing into adjacent areas such as travel booking. Flipkart & Amazon too have enabled flight booking in their website and app. How does this trend affect the dynamics of someone like MakeMyTrip (powers Flipkart) / Cleartrip (powers Amazon)? If customer is owned by e-commerce companies / payment apps, then the service providers are definitely getting commoditized. They lose their prime position because those that own the customer can switch to another provider anytime they wish to.
Flipkart Aims to double its travel business
The company claims that it sells over 60 lakh travel tickets every month and is aiming to increase it by 100 per cent in the current financial year. Paytm is moving fast towards becoming a leading online travel booking company in India with over 15 million subscribers.
Paytm special offer on travel tickets
Since its inception, Paytm Travel has attracted customers by bringing a variety of schemes. These include flight for Rs 99 and cancellation of the bus for Rs 9. Apart from this, not taking any amount is also involved in the process of canceling flight tickets. The company also provides instant refund facility in various cases.
However, the most important thing to notice here is that "network effects as moat for business" is becoming questionable. For the OTA companies, a case was made out for having strong network effects. But with this new trend, this flywheel is looking rather shaky.
In the short term, we will see OTAs performing better due to the reduced cost of customer acquisition, for that is now picked up by the payment apps. But what about the long term? What will this landscape look like 5 years from now? Ain't that the big question!
Abhishek Rajan said, 'Our customers have saved more than 60 crores rupees with the facility to cancel flight and bus ticket booking.' The company has chosen the city of Bengaluru to conduct its travel business with a team of over 300 members.
This begs the question of what the future in India is going to look like. Will we embrace super apps or prefer cleaner standalone apps? Will we become more like China or more like the USA?
Around 9 months back Digital payment company Paytm has launched domestic hotel bookings on its platform and has acquired last-minute hotel bookings app Nightstay to expand its travel business.
Digital payments leader Paytm provides over 200 services after the launch of its gaming platform, Paytm First Games. 200 services of Paytm range from recharges and bill payments,to travel and entertainment booking,city services like "Fastag",Challan, Donation and Financial Services like loan,gold, insurance. Paytm QR, which is seen at Kirana stores has become ubiquitous to cash in India. Paytm Inbox has news, cricket and entertainment videos. The success of Paytm's business model has attracted America's Google, Facebook's WhatsApp and Walmart's PhonePe, which are following a similar strategy without much success so far.