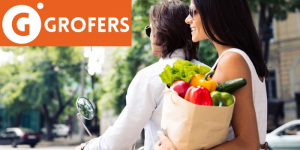 Gurugram-based Leading online grocery platform Grofers plans aims to achieve USD 1 billion in revenue by the end of the year, on the back of strong growth in both its online and offline businesses. Softbank-backed online grocery firm also eyeing to add 700 kirana stores to the network.
"We are aggressively growing our business and aiming to clock USD 1 billion in revenue by end of 2019 with a significant focus on our in-house brands in 2019. Our G-brands contribute 40 per cent to our current revenue, and we plan to increase it to 60 per cent in the coming years," Grofers founder Saurabh Kumar told news agency PTI.
Grofers founder Saurabh Kumar said the company is now expanding into new markets and is aiming to partner with 50,000 offline stores in the next 30-36 months.



Today's hyperlocal present in India are either inventory led (Big basket, Grofers) or marketplace led ( swiggy stores, Dunzo). Flipkart envisions a hyperlocal platform offering an array of products.
The Indian grocery market is currently a $400-$500 billion market, that should be the reason Flipkart Supermarket & #Amazon Fresh is competing to becoming the pioneer in the hyperlocal grocery delivery model. Flipkart expects grocery to be one of its top categories in the next 3-5 years. However, the penetration of e-commerce in this space is just 0.5% because of the supply chain challenges involved. Walmart owns Flipkart, Alibaba has invested in Bigbasket, SoftBank in Grofers, Naspers is backing Swiggy, and Google Dunzo.
For all their money and expertise, though, none have been able to deliver groceries within 2-3 hours of an order. At least not consistently. There have been pilots, pushes and attempts; and as many setbacks and failures and pivots.The runners in this race are spread all over the track. Amazon Fresh launched last month to deliver 5,000-plus items—including fruits, meat and dairy—in two hours. Bigbasket, meanwhile, is phasing out hyperlocal grocery, while Grofers already has. Swiggy Stores and Dunzo are, well, just not in that league.
She makes her argument by piecing together various pieces, like a puzzle. Supermart, Flipkart's online grocery store, is running in five cities since 2017.
A slow steady & silent revolution is brewing. Be it Reliance's E-commerce, Flipkart's Hyperlocal experiments or Grofer's effort to re invent deliveries..The "Kirana Store" is where everyone is looking at to optimize deliveries. Will Kirana Stores become the next piece in these Hyperlocal supply chains?
Grofers is looking for profitability by consolidating its presence in the cities of operations and is targeting on doubling its sales to Rs 5,000 crore by Financial Year 2020. The company said it is also gearing up to hit the capital market with an initial public offer (IPO) within the next three years.