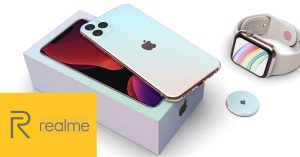 Two foreign brands are making waves in India's smartphone market, IDC data shows. Apple grabbed over 50% share in the ₹35,000-plus segment in July-September, reclaiming the top spot after two years. Its strategy: Competitive pricing of new iPhones and a drastic drop in prices of older models to cash in on festive demand. On the other end of the spectrum, China's Realme shipped 400% more phones year-on-year to capture 14.3% of the market. It has successfully replicated market leader Xiaomi's playbook: Staying online initially to cut costs, launching a bevy of aggressively-priced models, and offering good value for money.




Talking about defying trends, Indian smartphone shipments registered a double-digit growth on pent-up pre-Diwali demand offsetting the overall weaker economic climate. This continues to prove smartphone & related services have become pivotal to consumers' lives commanding priority and a higher share of wallet. This is interesting: 67% smartphone market is controlled directly by Chinese companies in India. Five Year Young Xiaomi India sold 8 million+ Smartphones. One year young Realme India sold 5.2 million smartphones all during Diwali Sales!
Emerging Trends in India's Smartphone Market
For the first time Indian smartphone market reached 49 Million units shipments, second largest in the world.
Now two in three smartphones shipped were smartphones as JioPhone push slows down during Q3 2019.
Xiaomi India led the market followed by Samsung Electronics but the growth slowed down for the top two
Vivo & Realme India were the fastest growing brands together cornering a third of the market from just 13% a year ago.
OnePlus maintained the lead in the premium market with the new launches.
Itel Mobile India smartphones also grew 40% YoY & Featurephone share doubled .
Top Five smartphone brands contribution (~87%) reached the highest ever level in Q3 2019.
Data from IDC
1. India's smartphone market shipped a record 46.6 million units.
2. The share of the online channel was at a record high of 45.4%. The report by Strategy Analytics pegs it at 50%.
3. The offline channel continued to face challenges, leading to a 2.6% YoY decline in 3Q19. Consumer enquiries and footfall were relatively slow at the retail counters through September, compared to the previous years.
4. The low-end price segment of US$200 or Rs 15k still accounted for 80% of the overall India smartphone market in 3Q19. However the segment saw a drop of 5% points YoY.
5. The gainer was the mid-range segment of US $200-$500 or Rs 15k -37k which gained 6% points with a contribution of 18.9% in 3Q19. USD 200-300 was the second fastest growing segment with 48% approx. growth.
6. The fastest growing segment in 3Q19 was US$300-500 or Rs 15,000 to Rs 37,000.
7. The ASP for the overall smartphone market was US$159, with 2.7% YoY growth in 3Q19.
8. In the premium (US$500+) segment, Apple continued to dominate with a market share of 51.3%.This is contradictory to Counterpoint mentioning One Plus as the leader.
I was always wondering the audaciousness of price tag of iPhones. The art of pricing is in maximizing EBIDTA. It is the simple logic that rules. Premium pricing holds till the differentiation exists. The degree of premium pricing is w.r.t. degree of exclusivity in Q quotient that a customer is willing to shell out extra. When the superiority-edge diminishes, the price-edge also comes down. Finally the sense prevails and Mr. Cook decides India ?? story better. The iPhone prices are being cut to size. Yet I think that Mr. Cook has plenty of grounds to make the story better by going for "Make in India" narrative. We are all waiting for some Apple style innovations reminiscent of Steve Jobs era. Have you heard about Apple Card ? That could be a game changer.