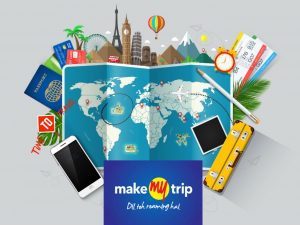 Online travel firm MakeMyTrip is looking to add over 10,000 alternative accommodation properties in India in 2020, with the company expecting to achieve double-digit growth in the segment during the period. Currently, the company has 1,70,000 bookable properties in India and overseas in the alternative accommodation segment which includes villas, apartments, home stays, guesthouses and hostels, among others.
"MakeMyTrip is confident of encouraging a shift in driving consideration for the segment among st leisure and corporate consumers travelling in India who are looking for more choice"



The leading tech companies in travel (MakeMyTrip), logistics (Delhivery, Rivigo), food delivery (Zomato), medicine delivery (1mg, Healthkart), fintechs (PolicyBazar and Indifi), hospitality (OYO Rooms), home fix-ups (UrbanClap) and services (Nagarro ) have their strong roots in Gurgaon.
Netflix, Amazon, Swiggy or even MMT. Today, most of the companies work on the subscription model. A brand provides a monthly or an annual plan at a discounted rate. It gives a recurring revenue to the brand but also gives a assured service and value for money to the customer.
Print Media has seen a drop-down in subscription plans. But, digital space has seen a rise in the number of followers. Apple Inc would launch the apple tv with iTunes membership. It aims at bundling the two products. The company might see a loss but in the long run, they will see patrons and loyal subscribers.
Oyo, India's largest hotel chain, to be on course to becoming the next WeWork, effectively writing its obituary. It has already been in the cross hairs of the Competition Commission of India for alleged collusion with other dominant players like MakeMyTrip and GoIbibo to regulate pricing, along with other bad practices with respect to their treatment of hotel owners, employees and customers alike.
MakeMyTrip's main emphasis and primary focus is on its customer satisfaction with maximum choices so that they always find the best experience on their one-stop travel shop, he added. Currently, the firm is also catering alternative accommodations across various prime properties including Goa, Coorg, Wayanad, Lonavala, Shimla, Darjeeling, Ooty, Alleppey and the metros.
Currently out of 1,70,000 properties overall in the segment, Makemytrip has approximate 25,000 properties for booking in India. In international destinations Makemytrip caters to various booking options in Dubai, Singapore, Bali, Kuala Lumpur, London, Paris, Berlin, Amsterdam, Melbourne, Sydney, Las Vegas, New York, Ho-Chi-Minh City and Hanoi.
As per a recent study initiated by MakeMyTrip, around 48 per cent of Indian tourists are more fascinated to book an alternative accommodation for their next holiday vacation.