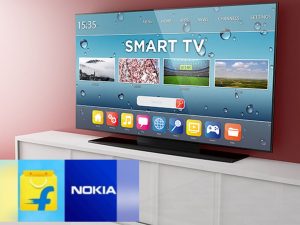 The trend of smart TV has increased in the Indian market for the last several years, due to which smartphone companies have also taken this step to woo users. Under this, OnePlus, Motorola, Samsung and now Nokia have also started working on their smart TVs.
Nokia has partnered with the country's popular e-commerce site Flipkart. About this, Flipkart said that it will now sell Nokia brand smart TVs. Let us know that Motorola has also launched its Smart TV in India with Flipkart.
Nokia's Sales will increase Flipkart Business in India
Regarding the partnership of Nokia-Flipkart, the company said that through Nokia we will get a chance to understand the need of Indian customers better. With this, the company will decide the production and sale of TV keeping in mind the budget and demand of the customers. Also, Flipkart will decide the end-to-end market strategy itself.



JBL's iconic sound will soon be available on television for the first time in India. Nokia is set to launch its smart TV with Flipkart and we are proud to partner with them to provide 'Sound by JBL'.
JBL speakers will be on Nokia Smart TV
According to the information given from Flipkart, the Nokia brand's smart TVs will come with special speakers. These speakers will belong to the JBL company, meaning that Nokia Smart TV will get support of JBL speakers and sound program. Let us know that JBL by Harmon is known for making the best audio products in the industry.
Nokia Smart Tv Will work on Android Operating System
According to the news, Nokia's upcoming smart TV will run on Android operating system. At the same time, if we talk about its features, then it will be very similar to Motorola's Smart TV. Although the sound system in the TV will be different.
However, the company has not given any information about the launch date of its Smart TV yet. But it is expected that the company can launch it in the coming weeks. Also, no official information has been shared about the TV price and specification.