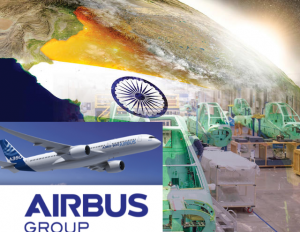 Airbus India launched its information technology (IT) center here on Wednesday. Employing 500 people, the center will help the company expand its IT and digital capabilities in its global operations.
The company said in a statement that the new information management center showcases Airbus' efforts to maximize its global reach. India has qualified IT engineers and is compatible with Airbus. The company started increasing its information management capabilities in the country in 2017. It will be increased in 2019 and 2020. The company is also expanding its other digital capabilities including Big Data, analytics, Internet of Things, cloud, app development and cyber security.
Speaking on the occasion, Anand E. Stanley, Chairman and Managing Director of Airbus India and South Asia said that Airbus is taking advantage of India's strength with qualified talent. It is probably its largest IT partner country in the world due to the IT environment present here.



Airbus shares a long-standing relationship of collaboration and symbiotic growth with India. For decades, technology and know-how from the company have catalyzed the growth of India's civil aviation sector and supported the modernization of its armed forces.
Airbus India Training Centre
Driven by the "Make in India" initiative, Airbus is always expanding the nation's commitment to its worldwide item portfolio. Neighborhood impression in sourcing, designing, development, support and preparing administrations assume a key job close by the push to hold and broaden the organization's authority in this huge and developing business sector.
Airbus initiated Asia's first completely claimed pilots and upkeep architects preparing place for business air ship in the National Capital Region (NCR) in Delhi. It underpins the nation's requirement for new pilots to work existing and cutting edge Airbus jetliners. The middle quickens the pace of preparing to help coordinate the A320 conveyances to India. Airbus' specific teachers convey preparing at the middle, which will have the ability to prepare more than 8,000 pilots and 2,000 support builds throughout the following 10 years.