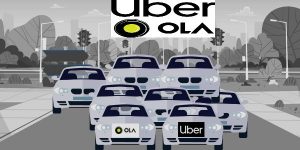 Ola and Uber are looking beyond cabs in their hunt for growth, Economic Times reports. Industry experts say the companies are likely to focus on bike taxis and autos, car rentals, corporate tie-ups and collaborations with public transporters to shore up ride numbers as their core business slows. That's because four-wheeler taxis aren't affordable for a large part of the population and the available market has become saturated. Both firms are already diversifying: Ola has forayed into cloud kitchens, financial services and self-drive while Uber is betting on freight, food and Uber Health, a B2B ride-hailing platform for healthcare providers.
Will Uber, or Uber inspired businesses make money? In the near future, it seems difficult.
Take a look for Uber:
Regulatory pressure will drive up cost higher: Drivers -from being contract labor are likely to become employees. This will drive up cost.
Buying business: Discount to riders (read: customers) and incentives to drivers is akin to riding a tiger. It is easy to get on its back. But getting down is fraught with risk.
Competition: Every geography has formidable local competitor. In China it is Didi Chuxing, India it is Ola, Singapore it is Grab, US it is Lyft. They are formidable foe and are backed by deep pockets.
Who benefits from pursuing a strategy of buying sales and luring 'employees' with promise of business and incentives?



Three major stakeholders – Customers through cheaper rides, drivers through business and incentives and Uber through 'valuation'! Who is the loser? Not investors, because they fund this strategy, to 'up' the valuation and exit; but the last investor/s who is left holding the baby! What do you think?
Pivoting towards FinTech has been a popular strategy for Asian tech and ride-hailing companies. India's Ola made FinTech a priority in 2015 after spinning out its payment service, Ola Money, into a standalone app. Indonesia's Go-Jek started its Go-Pay service in 2016.
In India, we already have Google Pay, PhonePe, Paytm, Ola Money and a host of other players fighting it out for market share. All of them are chasing the same set of customers.
Data monetization across verticals is the only game in town which can maintain investor interest in these companies given the souring of Private Equity investor sentiment after the WeWork fiasco.
E-Rickshaw Market Potential in India, 2019 with Demand Projections till 2025 – Cab Aggregators Like Ola & Others are Moving to the E-Rickshaw.
Ride-hailing company Ola is set to unveil a connected car project in partnership with Microsoft Corp. The tech giant will also invest around $200 million in Ola's parent, ANI Technologies Pvt. Ltd. The project has already begun in 2017 and aims to connect cars with the Internet of Things sensor All the transmitted data will be stored in the cloud for better analytical understanding. As we know that Ola is already planning for a fleet of electric vehicles. So this technology will also have a direct impact on this project. If we think from the technology perspective. This project will also strengthen the emerging mobility segment for the cab provider.
Several Weeks back, one of the most interesting pieces of news with regards to Financial Services and FinTech came from Uber. That's right – the ride-sharing company. Uber has launched Uber Money, a separate division within the company to take care of all things related to financial services ?. Here's all you need to know about Uber's Quest into Finance. With the creation of Uber Money, the ride-hailing giant wants to leverage their 3M drivers network and nearly 100M monthly active platform users.