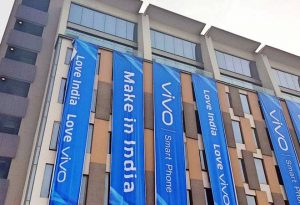 Chinese smartphone maker Vivo plans to pump ₹4,000 crore into India in coming years to boost manufacturing capacity, PTI reports, quoting a senior company official. The company, which has invested ₹400 crore in a factory at Noida, is planning a new plant at Greater Noida that will double its handset capacity to 5 crore units per annum. Vivo is the third-largest smartphone player in India with a 12% market share, according to data from Counterpoint Research. Its parent is China's BBK Group, which also owns the Oppo, OnePlus and Realme brands.
OPPO India manufacturing facility is situated at Greater Noida. Spread across 110acres and employing 10k workforce, this State of the art Infrastructure produces 1 Smartphone every 3 seconds.
How can India attract global handset makers to set up manufacturing here?
A good case where investment incentives are actually working – despite trade wars and falling FDI flows globally – and comes from India. The industrial incentives program for the electronic industry helped the mobile phones sector grow from just two manufacturing units back in 2014 to 268 mobile handset and accessories manufacturing units in 2019. As a result, India is today the second-largest mobile phone manufacturer in the world after China: 95% of mobile phones sold in the country are produced locally and mobile handsets exports are set to reach US$ 107 billion by 2025.
225 million mobile units were made in India 2017-8, compared to 60m in 2014-5. That makes India the world's second-largest phone manufacturer. Samsung, Xiaomi, Oppo and Vivo are the main manufacturers, with Apple building operations.



Besides Samsung, most Chinese smartphone makers which now dominate the Indian market – Xiaomi, Oppo and Vivo — also produce their phones in the country. Apple has already started the assembling of iPhone 7 there too.
Why "Made in China" is huge success where is "Make in India" has not taken off?
Today on global level China is manufacturing 80% AC's; 70% Mobile sets; 60% shoes and 64% solar cells and there are more categories. World's est 60% most luxurious and branded goods are manufactured in China! These are KSF enabled China to become global manufacturing hub and we can leverage these learnings suitably:-
1). Mass production with aggressive cost ( remember RIL JIO story?). We are stuck up with SME's and there is no policy framework and ecosystem to aspire global scale.
2). Investment in " reverse manufacturing" rather than huge R&D investments ( Oppo, Vivo, Xiomi).
3). Labour productivity is way high offsetting higher cost of labour. Real focused on skill building wherein we are at nascent stage.
4). Experience and expertise with passage of time.
5). Stability with one party system and policies brings in predictability and hence ease of doing business.
6). Supply chain cities – industrial network clustering like Detroit is Auto Hub.
7). Cost of power and assured availability.
8). World class infrastructure ensures minimal cost of logistics within total cost of manufacturing.
9). Government and business truly function as partners.
Chinese smartphone maker Vivo has said that it will invest more in India to bring its design and research and development (R&D) centres to support its Make in India strategy, having already announced Rs 4,000 crore investment in setting up a new manufacturing plant in Uttar Pradesh that will generate 5,000 jobs in its first phase.
OnePlus CEO Says India will be Largest R&D Base in 3 Years. Pete Lau, Co-founder and CEO, OnePlus is anticipating that India will be the premium smartphone maker's largest Research and Development (R&D) base in 3 or more years. OnePlus is looking at India as a global talent hub and with the support of the R&D centres, it plans to have a long-term approach to its engagement with the country.
OnePlus, with a 30 per cent revenue in the premium category of smartphones is planning to stay in India for a longer term.