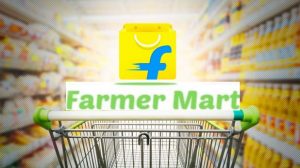 Flipkart is entering food retail with a ₹2,500 crore war chest, MoneyControl reports, citing sources. The Walmart-owned firm has registered a new entity called Flipkart Farmermart that will run farm-to-fork operations, including its own private label, a grocery supply chain, and even stores. The homegrown e-commerce major will bank on the expertise of parent Walmart, which already runs a wholesale business in India. Experts say grocery is one of the stickiest segments given its repeat purchase potential. Rival Amazon, which secured a food retail licence in July 2017, now procures and sells groceries here.
Now you can buy food and drink in addition to online shopping from e-commerce company Flipkart. The company announced that it is starting a new business in the country under the name Flipkart Farmmart. With this new business, the company is also preparing to challenge its main competitor, Amazon. Amazon has already established its presence in the food retail segment.
E-commerce company Flipkart is setting up a local company 'Flipkart Farmer Mart' to foray into the food grains retail market in the country. The new company will compete with Amazon in this area. According to sources, initially Flipkart is expected to invest Rs 2,000 crore in this business. Depending on the size of the supply chain, storage and logistics, it can also invest more as per requirement. Kalyan Krishnamurthy, Chief Executive Officer of Flipkart Group said in a statement, "The company is applying for compulsory licenses in the retail business of domestically manufactured food products of the government as per 100 per cent FDI policy," he said.



Under the Modi government's new FDI policy, foreign investors do not have to seek approval for the retail sector in India. In which 100 percent FDI is allowed. Soon Flipkart will apply to get the license. It will then have to seek permission from the Department of Industrial Policy and Promotion (DIPP) to invest in food retail.
Fast growing online grocery shopping market. The grocery segment has a large share of the unorganized retail segment in the country. According to estimates, the grocery market in India is as much as $ 200 billion. In the last few years, companies such as Big Basket, Growers have made their way into the online grocery segment, from where people are also buying everyday items like egg, bread and milk.
It is a newly registered company 'Flipkart Farmer Mart'. It will focus on retail business of food grains in the country. This is an important part of the company's efforts to promote the food processing industry in the country as well as to advance Indian agriculture. Krishnamurthy said that we have already obtained all the internal permissions for this.
We look forward to investing well in the local agriculture and supply chain sector. We are working with millions of small farmers, agricultural producer organizations, food processing industries. With this, we provide quality, Helping to provide affordable food grains and increasing the income of farmers many times. The company has not provided any investment information on the new venture. Flipkart's rival Amazon has also received an investment of $ 500 million in 2017 to propose its retail business of food products in the country.
Online grocery markets are opening in India right now. According to a report, 0.15 percent of people in India shop online. However, the market expects that by 2023, 68.66 percent people will start shopping online.
Indian market and their mentality towards absorbing ideas which save their time, gives discounts and a sense of satisfaction being served at home is letting more and more brands adopt business models of past success/unicorns. We feel that online retail in India (and the acceptance of it by customers) is one of the biggest disrupters for the agri sector today and will drive significant change in the back-end.