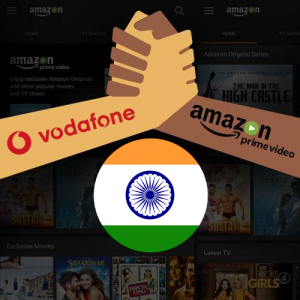 Amazon India partners with Vodafone to set up Pickup Points for Amazon customers in 100 Vodafone stores across 9 cities.
Amazon partners with Vodafone to set up pick-up points for customers – Stores have been identified as pick up points based on high customer density to provide easy accessibility and convenience to Amazon customers.
The new association will help Amazon India shoppers to choose their nearby Vodafone outlets as a pick-up point to collect their packages at a convenient time, it said in a statement.



Amazon India will gain huge leverage with the wide reach of Vodafone stores to provide a "safe and convenient" alternative for customers who may not be available during the day to receive their package, the company said.
E-commerce companies Amazon India have added 90,000 and 50,000 temporary jobs, respectively, to cater to the festive rush. The seasonal employment opportunities span functions from supply chain and last-mile delivery to customer support.
Mahindra Logistics partnering with Amazon India to deliver the One plus TV that has been launched exclusively on Amazon. The partnership aims at giving the best in class service for an amazing product.
Customers can select these points as a pick-up location on the checkout page of their order while shopping on Amazon.in. Currently, the option to choose Vodafone store as a pick up point is available in nine cities including Bengaluru, Mumbai, Hyderabad, Pune, Jaipur, Indore and Ahmedabad.
A successful business model as many interrelated components, however, it is always dependent on the people which implement the model and make it work, both 'front and back of stage'.
Amazon India is looking for a long term partnership so they are planning to double its presence in the Vodafone store network by the end of 2019.